Hudson River Truck and Trailer
Phone: (845) 454-7669
12 Commerce Street Ext.
Poughkeepsie, NY 12603
Email: info@hudsonrivertruck.com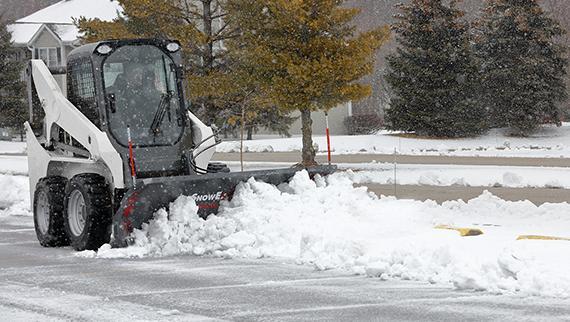 SnowEx SkidSteer Plows Snow Plow
Stock #:

SnowExSkidSteerPlows

VIN #:

SnowExSkidSteerPl

Year:

2018

Manufacturer:

Snow Ex

URL:

https://www.hudsonrivertruck.com/all-inventory?stock=SnowExSkidSteerPlows
Description
SKID-STEER PLOWS
Please call for pricing at 845-454-7669. PLEASE NOTE: Local and out of state checks must be certified. BANK/CASHIER'S CHECKS ONLY.
STRAIGHT BLADE & HINGED PLOWS
Get more out of your skid-steer with a SnowEx Heavy-Duty straight blade snow plow or a versatile SPEEDWING snow plow with automatically adjusting mechanical wings. Attaching quickly to any brand or style of skid-steer loader, you can turn another vehicle already in your fleet into a snow removal hero with no additional wiring or controls.
The Heavy-Duty plow provides true contractor performance under the most punishing conditions. Available in four blade widths (7' 6", 8' 0", 8' 6", 9' 0"), its heavy-duty construction combined with the hydraulics and maneuverability of a skid-steer stand up to the challenge.
Available in 8' 7" blade width, the SPEEDWING snowplow combines the simplicity of straight-blade operation with the enhanced productivity that only wings can offer to maximize snow carrying capacity. With mechanical wings that adjust from scoop to windrow position when the plow is angled, the SPEEDWING is ideal for skid-steers.
FULL-TRIP MOLDBOARD
A full-trip moldboard with four coil springs helps protect you, your plow and your skid-steer when striking obstacles.
SLOPED ATTACHMENT SYSTEM
Sloped forward 10 degrees, the attachment plate allows the blade to be raised with the bucket tilt function for maximum efficiency and maneuverability.
ONBOARD HYDRAULICS
Leverage your skid-steer's onboard hydraulic system for powerful, efficient operation.
DUAL STEPS
Broad steps with enhanced traction provide the operator with easy cab entry/exit.
AUTOMATICALLY ADJUSTING MECHANICAL WINGS (SPEEDWING ONLY)
Mechanical wings automatically adjust from scoop mode to windrow position as you angle the plow.