Hwy 61 Trailer
Phone: (636) 366-4000
1857 W Outer Hwy 61
Moscow Mills, MO 63362
Email: veronicahamptonrgm@gmail.com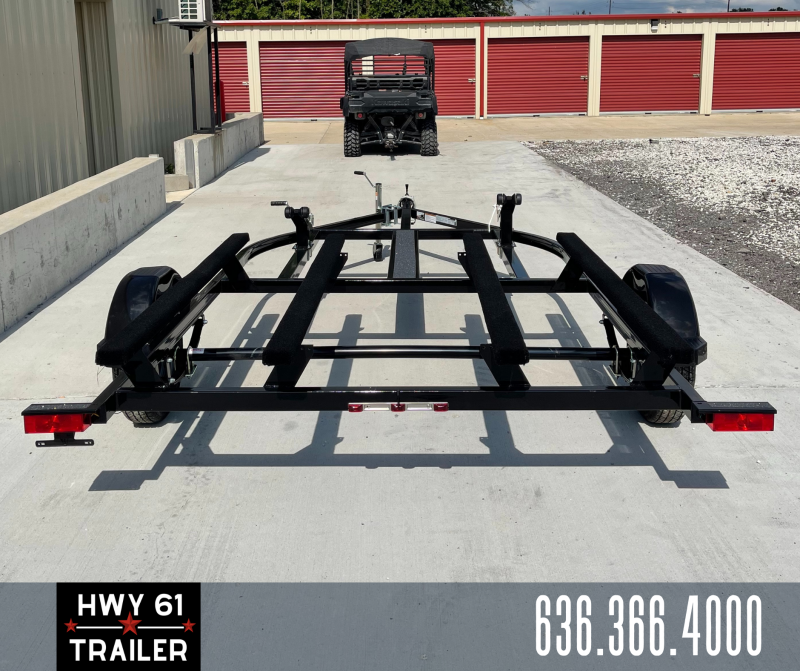 2022 Haul-Rite Double Jet Ski Watercraft Trailer
Stock #:

HRDJS

VIN #:

HRDJS

Year:

2022

Manufacturer:

Haul-Rite Trailers

Width:

102" or 8' 6"

Length:

204" or 17'

Weight:

600

GVWR:

2500

Payload:

1900

Color:

BLACK

# Axles:

1

URL:

https://www.hwy61trailer.com/all-inventory?stock=HRDJS
Features
-

2" Coupler

-

5 Hole Wheels

-

ST185/80R13D - Tire Size
Description
We are a dealer for Arising Enclosed Trailers, Heartland Utility Trailers, Texas Pride Dump Trailers, Karavan Jet Ski Trailers, Haul Rite Jet Ski and Pontoon Trailers, and Ozark Utility Trailers and used trailers when available.

Conveniently located 40 minutes west of St Louis, MO in Moscow Mills, MO.

---Financing Available--- apply at https://www.hwy61trailer.com/financing

Like us on Facebook! www.facebook.com/Hwy61Trailer/

While we do our best to keep this website current, feel free to call us at 636-366-4000 to verify a specific trailer is still available.

Replacement tires available for any type of trailer!

This trailer comes with:
Load Capacity: 2500 lbs.
Tire Size: ST185/80R13 D-Range
Winch Size: 600 lbs.
O.A.L.: 17
O.A.W.: 102"
Tube Size: 2--3 11 GA.
Coupler Size: 2
Catwalk
Tongue Jack
Winch Strap w/ Hook
Safety Chains
Plastic Step On Fenders
Submersible Lights
Silver Wheels
Accu Lubes


Aluminum Trailer, ATV trailer, Big Tex, bumper pull, Car Carrier, Car Trailers, Cargo Trailers, Carry On Trailer, Covered Trailer, Dump Trailer, Enclosed trailer, Equipment Trailer, Flatbed Trailer, Gooseneck Trailer, heavy and light equipment trailers, Interstate Trailer, Landscape Trailer, low pro dump., Motorcycle Trailer, Moving Trailer, Open Trailers, Pace American Trailer, Race Car Trailer, Roofing Trailer, Side load Trailer, Stock Trailer, Tilt Trailer, trailer enclosed, trailer for sale, trailer hitch, Trailer Parts, trailer rental, trailer sales, Trailer Specialist, U-Haul, used Cargo Trailers, used enclosed, used trailers, Utility Trailers, Watercraft Trailers.