Trailers Direct - KC
Phone: (816) 767-9600
13307 South U.S. 71
Grandview, MO 64030
Email: sales@trailersdirect.net; trailersdirectkc@gmail.com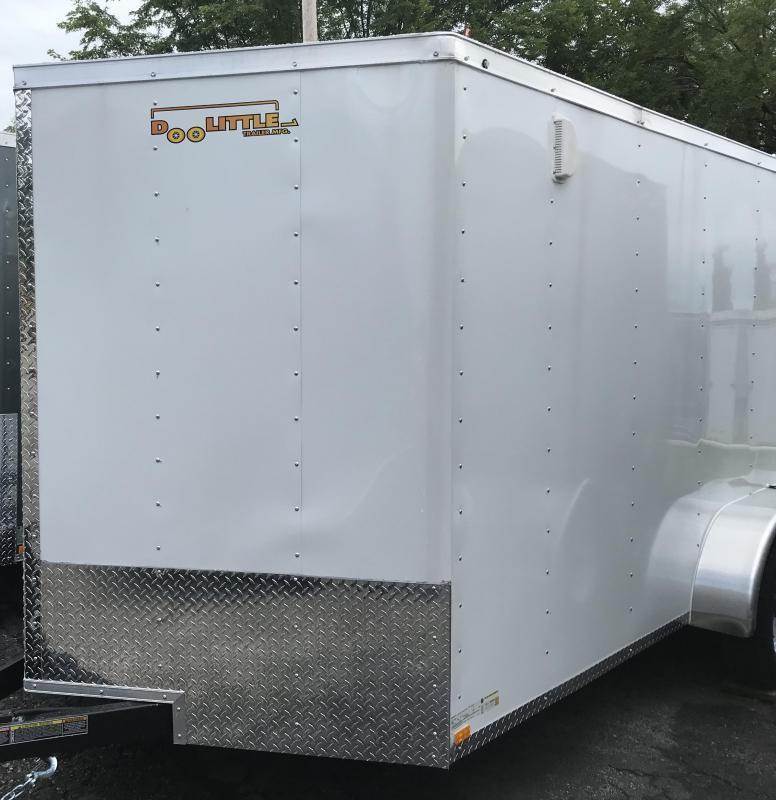 DOOLITTLE 7 X 12 CARGO RENTAL #25
Stock #:

RENTAL 7 X 12 CARGO #25

Year:

2019

Manufacturer:

Doolittle Trailer Mfg

Width:

84" or 7'

Length:

144" or 12'

Weight:

2040

GVWR:

7000

Payload:

4960

Color:

WHITE

# Axles:

2

URL:

https://www.trailersdirect.net/all-inventory?stock=RENTAL 7 X 12 CARGO #25
Features
-

Manual Top Wind Jack

-

2 5/16 Coupler

-

Break away Switch

-

5 Hole Wheels

-

Spring Suspension

-

Treated Wood Floor

-

Spare Tire Mount

-

7-Way Plug

-

DOT Approved Lighting

-

LED Lighting

-

Lights

-

Side Door

-

Rear Ramp Door
Description
7 X 12

White

7,000 lb T/A

Doolittle Cargo

Square Body

V-Nose

30" Stoneguard

37" Side Door

2 Plastic Side Vents

2 Dome Lights w/ Wall Switch

LED Lights

Radial Tires

1' Longer Tongue S/A

73 3/4" Ramp Door w/ Spring Assist for

7' Wide Doolittle Cargo

12" ATP Extension Flaps

Spare Tire Tongue Mount

E-Trac Recessed Mounted on Wall

(SET AT 24" and 48" From FLOOR TO CENTER)

RV Latch w/ Key Entry

PLATE 27K-1SZ

2019

RENTAL #25

$80 A DAY/ $400 A WEEK/ $1500 A MONTH

Neither the rental agent nor the manufacturer is responsible for accidents or injuries caused
directly or indirectly in the rented item, even if the same is the result of negligence by said parties,
the renter assumes all the risk and responsibility for any injuries or damages, and indemnifies and holds the rental agent and the manufacture harmless therefrom.

ALL TRAILERS must be brought back in clean and undamaged condition.
A $50 fee will be accessed for a trailer that needs to be washed, cleaned or cleared out.

ALL TRAILERS MUST BE ASSESSED AT RETURN. TRAILERS RETURNED AFTER HOURS ARE SUBJECT TO AN ADDITIONAL CHARGE OF $175.00. IF TRAILER IS STOLEN DURING AFTER HOURS THEN THE TOTAL AMOUNT OF THE TRAILER WILL THEN BE CHARGED TO THE LESSEE. IF FULL PAYMENT IS NOT ABLE TO BE MADE WE WILL ENTER INTO A PAYMENT PLAN AT THAT TIME.